About our Community Outreach Programs
Junior Theatre's outreach programs can be customized to meet the needs and interests of your students as well as the learning goals of your classroom. Programs may be incorporated into the school day or offered after school. (Minimum class requirements of one hour per class meeting.)
IN-SCHOOL PROGRAMS
Integrate drama into history lessons, literature, or even science! Junior Theatre's In-School programs introduce students to drama as they explore imagination, movement, communication, and playmaking. These skills are developed through creative activities that focus on character, scene development, and story structure.
Junior Theatre's course curriculum has been developed to align with the California Arts Standards, and programs can be tailored to the specific needs of the students and staff. The classroom teacher will learn skills that may be applied after the workshop series has concluded.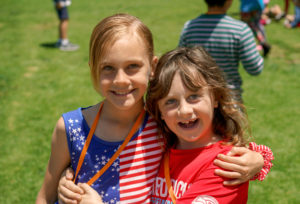 AFTER-SCHOOL PROGRAMS
Students in after school programs will explore and develop the tools of the actor (body, voice, imagination) while learning valuable life skills such as teamwork, responsibility, resiliency and empathy. Programs culminate in an open sharing to be presented to an invited audience of families and friends on the final day.
STUDENT MATINEES AND THEATRE IN THE PARK WORKSHOPS
Theatre in the Park workshops are designed to enhance a child's educational experience following a Junior Theatre Student Matinee. Led by a professional teaching artist, students participate in standards-based theatre activities and games that explore the characters and themes in the play. Theatre in the Park workshops are held in the Casa del Prado classroom building, adjacent to the Casa del Prado Theatre, or you can arrange for a teaching artist to come to your school.
For more information about how you can bring your class to a student matinee at Junior Theatre, please contact Education Director, Desha Crownover, at 619-239-1311 x 231.